At ElectrAtest our test engineers use the Megger PAT 4DV/3 tester for all Portable Appliance Testing. We have used this tester since 1998 and have tested several million appliances with it.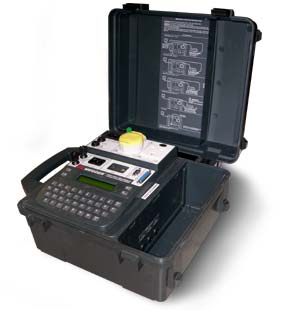 Megger have modified the tester specifically for us with our own version of firmware. These changes were made so our engineers can record more technical information in the PAT4Dv whilst on site. These changes increase the speed and accuracy at which we can test and obviates the need for laptops, pda's or pen and paper to record extra information whilst on site.

The PAT4Dv is a comprehensive, portable electrical appliance tester with the ability to test Class1 and Class II equipment. The tester is dual voltage so it can test 110 Volt and 230 Volt appliances. It also designed to safely test IT equipment.

The units can perform fundamental safety tests on Class 1 (earthed) and Class II (double insulated) appliances.

Appliance details including a description of the appliance are entered in full using the QWERTY keyboard.

The PAT4Dv/3 is fully Compatible with latest IEE (Institution of Electrical Engineers) Code of Practice.

Our engineers record in the PAT Tester the following information whilst on site.

Test Date


Test Time


Appliance Id


Appliance Description


Room Location


Retest Period (number of months before next retest due)


Types Of Test Carried Out


Charge Cost for testing the appliance


Any repairs, fuse replacements carried out.


All test results, pass or fail status, test limits, test voltages or currents.
All test equipment is calibrated annually in accordance with the IEE Code of Practice. Full calibration history records are kept in our database in line with our own Quality Procedures.