Software - Why do we use our own PAT software?
For the past 8 years ElectrAtest have invested some £200K in writing our own software for managing your test data. This includes software for our engineers to download data in the field, manage at head our head office, and allow our customers to review their data on site.
Many portable appliance testing companies buy off the shelf products for this. At ElectrAtest we have found that only by writing our own software can we ensure both quality and speed of turn around in producing your PAT testing reports. In addition we can write custom reports on your data to answer specific needs that you may have.
We store all test results and have all our customer data going back to the introduction of our system in January 1998. Our data is held on a secure server and is backed up daily.
In addition to providing increased efficiency, our software allows us to provide clients with data and information to solve their administrative requirements, for example:
We can produce your data to you in several formats including:
CSV, MS Excel, MS Access, MS Word, Adobe Acrobat PDF, Plain Text formats and our own proprietary ElectrAvu format.

Whilst your appliance register, pass and fail reports are sent in bound hard copies, these can also be sent in PDF and Word formats.
We can provide data and technical assistance to help integrate data collected in the field into a form used by you.
For those customers using off the shelf PAT testing software such as Shire Safety First, or Megger Powersuite, we can convert our data into a form that can be imported into these systems.


Fixed Wiring and Periodic Inspection Software

We have decided to create out own software for Fixed Wiring inspections. This software will be available to purchase.

PIRForm is a new software package to provide electricians a low cost, easy to use method of producing Periodic Installation Reports for fixed wiring installations. For more information, please visit the PIRform website.


PATVu - Our engineer PAT testing software
Over the past two years ElectrAtest have re written the software used by our engineers to download test data from their PAT machines in the field. This software has been updated to ensure that for every test we record which engineer did the test, which PAT machine was used to test the appliance as well as the exact date and time it was tested.
In addtion to using PATVu with our own engineers, some of our clients use PATVu to do some of their portable appliance testing in house. For example larger clients which are often receiving new electrical items throughout the year test these items themselves. ElectrAtest then fully test all the equipment on site every year. We can provide you with a copy of the PATVu software and training with a PAT Tester to enable you to do this under license.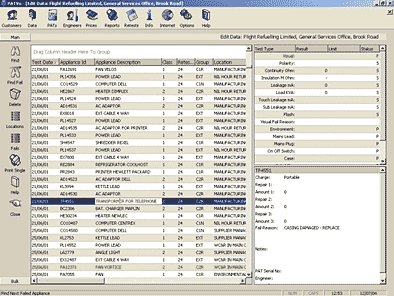 ElectrAtest Head Office - Software
All customer data is stored centrally at our Head Office. We have spent some 8 years writing our own software to manage your test results and our business as efficiently as possible. Our system allows us to respond rapidly to your requests for information. We are continually reviewing and developing our systems to ensure they meet the changing needs of our clients as well as meeting any changes in the regulations. Our systems are very comprehensive and include features for monitoring and measuring all aspects of our business to meet our demanding Quality System. For example, we send randomly generated Customer Satisfaction Surveys, the responses of which are recorded and monitored. We also record all details of PAT tester machines to ensure they are in calibration, as well as keeping records of training and engineers qualifcations.
Our system allows us to re-print or send via email, your PAT reports, invoices and any relevant information with a couple of clicks of the mouse.
ElectrAtest .net - Customer Lounge
As of the beginning of 2005 we are constructing a new secure website that will allow our customers to
access their PAT testing information online.






The ElectrAvu program allows you to view, search and print the electrical safety test results prepared by ElectrAtest Limited.

ElectrAvu's controls follow the windows standards, making it simplicity itself to learn and use. However context sensitive help is available should you need any extra information.



The Main Screen


Sorting Your Appliances


Finding Appliances


Finding A Failed Appliance


Printing your Results


Adding your own notes


List View


Requirements for ElectrAvu

The Main Screen

The Main screen is divided into two sections.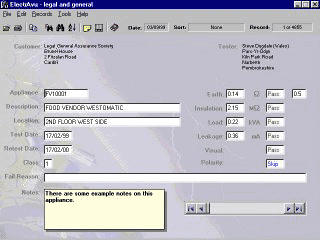 The top section - shows where the testing was carried out (useful when you have multiple sites) and also our testing engineer who carried out the testing at that site.

The lower section - presents a single record from your file, showing you the test results for an appliance.

The readings:



Earth Continuity Ohms


Load kVA


Insulation M Ohms


Earth Leakage mA


Visual Inspection


Polarity

Against each result is shown whether the test has been accepted as a PASS, a FAIL or whether that a test was not carried out (SKIP).

In addition to the technical information on the test, also shown is:



Appliance ID.


Description


Location


Date Tested


Re-Test Date


Class (Either Class 1 or 2)


Fail Reason

A simple scroll bar at the base of the screen allows you to quickly browse your test results. You may view the data but not change it. If an appliance is a failure the whole appliance is displayed in red.




Sorting Your Appliances

ElectrAvu provides you with a powerful way of sorting your appliances so that you can find groups or single appliances more easily.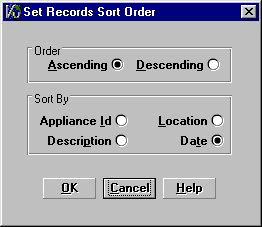 You can Sort by Appliance ID., Location, Description and Date in both Ascending and Descending order. This sort does not affect the way your test results are eventually printed.


Finding An Appliance

The find dialogue will allow you to search the text fields of your results for a specific piece of text.





You can search either forwards or backwards from your current position and use the match facility to find either an exact match, a match containing your search text, or a match beginning with your search text.

Finding Your Failed Appliances

Of particular interest to you will be those items that have failed their electrical safety tests. An option on the toolbar will immediately find the next failed appliance in your results.





Printing Your Results

The print dialogue will allow you to print out 4 reports: Failed Tests, Pass Tests, Appliance Register and Due Tests.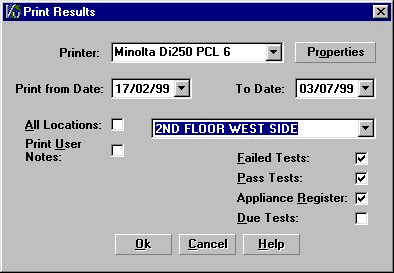 You can choose to print out your results for a particular date range, for a single location, or all locations. For example you may only want to print out the appliances tested in a particular office in a particular period. As your test results build up over more than one year, only the most recent test for each appliance will be shown in your data.
You can also select whether your own notes are printed out on the Pass and Fail reports.
A new option for version 1.4, you can now print just the currently displayed appliance. From the File Menu, choose Print Current.

Adding Your Own Notes

Clicking on the notes button will bring up a notes area, allowing you to make your own notes on a particular appliance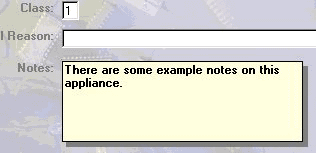 List View

A new addition to ElectrAvu version 1.4 you can now bulk view your results in a spreadsheet style view.
Clicking on an appliance will return you to the Main Screen with that appliance displayed. Appliances will be shown in the sort order you most recently selected.





Requirements for the ElectrAvu program
Windows 95, Windows 98 or Windows NT Version 4 (Service Pack 3) Operating Systems or later
5 Mb free hard disk space
100 MHz Pentium or better
8 Mb RAM
Program Supplied on 3.5 Inch Disk
Data Supplied On 3.5 inch disk, ZIP disk or Via Email